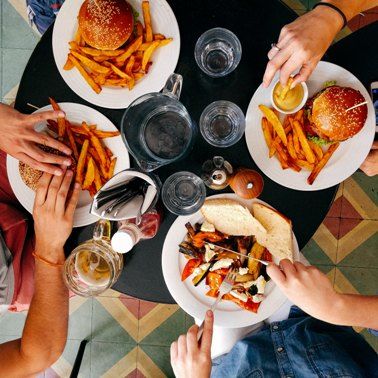 We know how much you guys love exploring the Gold Coast and with so many great places to visit within walking distance from Putt Putt Mermaid Beach, you can completely make a day or night of your outing. We're surrounded by some of the best places to go out for food and drinks on the Coast and we thought you oughta know about them! Here are our picks for the best places to go on the Gold Coast after a game of putt putt.
If you're a lover of delicious pastries and darn good coffee, then heading to Bam Bam Bakehouse after a game of putt putt has to be one of the best things to do. These guys are renowned for having celebrities checking out their trendy bakery, so make sure you stop by for a treat!
In the mood for some delicious traditional ramen? Look no further than Muso! Sharing the same block as Putt Putt Mermaid Beach, if it weren't for the signs, you may miss this place - But it's one of the Gold Coast's best kept secrets. With a spread of muso and gyoza dishes to tantalise your tastebuds, enjoy the freshest meals with all noodles made in store!
These guys are just across the car park from us, so if you don't want to travel far, then Mermaid Beach Tavern is our pick for where to go on the Gold Coast after a game of putt putt! Nightly meal specials, raffles, quiz nights and kids activities every day from 530pm-730pm, Mermaid Beach Tavern has something for everybody!
A couple of blocks down from Putt Putt Mermaid Beach, you'll find this humble surf shop with $3 coffees. Mmm… Coffee. Catch up with the crew and pick out a new board all while lapping up the glorious Gold Coast sunshine.
Little Mermaid
A short meander up the highway, you'll find Little Mermaid. You can't miss their bright turquoise sign and you'll just love all of the greenery once you step inside! With an interesting cocktail menu and dishes suited to all dietary needs, make an arvo out of your trip to Little Mermaid.
Do you have a hankering for Mexican? Then check out Bonita Bonita! Offering a huge spread of mexican eats, from tacos and quesadillas to a good old fashioned guac and chips, Bonita Bonita is hands down one of the best places to go on the Gold Coast after a game of putt putt to refuel your body with the good stuff! If you're kid free for the night, check out neighbouring Bon Bon Bar for a refreshing nightcap.
Feeling a little bit fancy? Then Little Truffle is right up your alley. These guys have recently won the award for best European restaurant in Australia, and with a menu that is sure to get anyone excited, Little Truffle is definitely worth wearing your fancy pants to.
One of the best places to go on the Gold Coast for any occasion, Etsu is a short stroll from Putt Putt Mermaid Beach. Modern Japanese eats designed to be shared, Etsu is a cut above the rest for a complete dining experience filled with delicious bite sized pieces of absolute heaven. You may just feel that you've been whisked away to the streets of Tokyo!
The Beach
Just a block back from the shores of the Gold Coast's famous beaches, hitting the waves after your game is the best way to cool off. And really, would a trip to Mermaid Beach be complete without a splash in the ocean? We think not!
Did we miss any of your favourite places to go?
Come on down to Putt Putt Mermaid Beach and see for yourself why these closeby places are raved about, loser's shout!
Tags: Mermaid Beach, Restaurants, Putt Putt, Mini Golf, Golf Coast
Related Articles