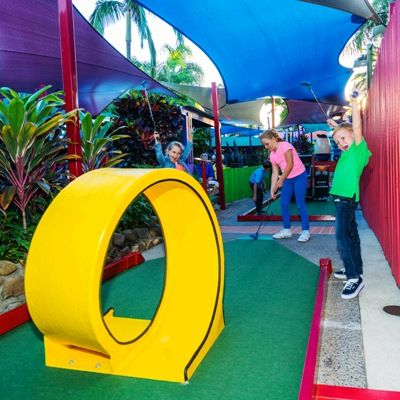 Hurrah! The school holidays are here! While the kids may be cheering, you're now wondering how to keep the little tackers occupied. But never fear, because we're here to take the stress out of organising and let you in on 10 reasons to take the kids to putt putt these school holidays.
Get Outta The House
It's easy to get used to staying home and relaxing during the school holidays. But before long, the kids start echoing 'I'm bored!' So, what better way to ease into getting back outdoors than with a friendly game of putt putt? If you're still in relaxation mode (we don't blame you!), then cruise your way through a putt putt course at a leisurely speed.
Free BBQ Hire
Did you know that our Jungle Hideaway BBQ Zone is free to hire? Bring your own BBQ eats and have a cook up between games. Or if cooking is the last thing on your list for things to do these school holidays, bring along a picnic, get pizza delivered or uber eats is an easy option too! Here's how to plan your weekend barbieq at Putt Putt Mermaid Beach.
Reward The Kids
Yeah, the kids might be ratbags sometimes, but you love 'em! And when they've been behaving so well, rewarding them with a visit to putt putt during the school holidays is a great way to say, "you know what kids? You're alright."
Step Away From The Video Games
We bet the kids love playing video games at home and all of that swinging action on the Wii needs to be put into practice! Surprise them with a trip to Putt Putt Mermaid Beach these school holidays and just watch their faces light up as they put their controllers down!
Make A Day of It


Putt Putt is the perfect activity to make a day of! Check out our top list of places to go after a game of putt putt and have this school holiday outing completely sorted.

Catch Up With Friends
Putt putt isn't just fun for the kids, you and your friends get a kick out of it too! Why not make a play date out of your visit to Putt Putt Mermaid Beach and invite along your friends with kids as well? They'll love hanging out with their school friends (come on, they're used to seeing them five days a week!) and you'll get to chat amongst yours while making your way around the courses.


Fun Nighttime Outing
Getting out at night time for an exciting game of twilight putt putt will definitely be a highlight for the kids and one that they'll rave about to their friends. Playing putt putt under the stars feels pretty magical and our Waterways course is particularly popular with its cascading waterfalls and twinkling lights. Make these school holidays one to remember with a nighttime outing to putt putt!

Bring In The New Year
Is one of your new year's resolutions to try new things or take the kids to new places? Bring in the new year the right way with an adventure to Putt Putt Mermaid Beach. Trumpeting elephants, motorised obstacles, shimmering lagoons, the kids will love starting the new year with a putt putt adventure these school holidays!
A Good Excuse For Ice cream
Seriously, has there ever been a better excuse for ice cream than an outing to putt putt? Lick up that creamy, delicious goodness to celebrate a friendly game and then do it all again by playing another course! Loser's shout! 😜
Simply call us on 5575 3381 or book online to enjoy a game of putt putt these school holidays.
Tags: Kids Activities Gold Coast, School Holidays Things To Do, Putt Putt Golf, Mini Golf
Related Articles