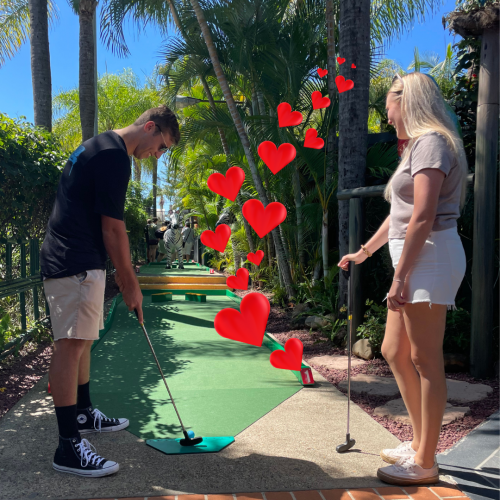 The most romantic day of the year is upon us! An extra special day to celebrate love, our partners, family & friendships! Another reason to make it a night to remember!
But, what spent doing? Sometimes it's difficult to organise something new & exciting to do on Valentine's Day. That's why we've put together 4 ideas to add to your date night this Valentine's.
Sunset Picnic on the Beach
Just across the highway from Putt Putt is the beautiful Mermaid Beach. Enjoy a romantic evening on the sand with your favourite picnic delights! You can't go wrong with a cheese board & chocolates. If you're feeling adventurous, top it off with a sunset bike ride along the beachfront and watch the sky change colour. There's a designated bike path from Surfers Paradise all the way down to Burleigh Hill!

Twilight Putt Putt
Speaking of gorgeous sunsets, have you ever visited Putt Putt at night? Our Waterways course is glowing with lights & fluorescent flowing water features. Surprise your partner with a friendly game of Twilight mini-golf. We even have glow balls that light up! Brighten your experience further and purchase your favourite colour at reception. While you're there, make a toast to your partner with our special Valentine's cocktail - a strawberry margarita! We'll be open from 9am, right up until 10pm, so swing on by!

Movie Night at Event Cinemas
If you don't want the fun to end after your Putt Putt round, a cinema date never disappoints! Just down the road from Putt Putt is Event Cinemas at Pacific Fair Shopping Centre. Lose yourself in the magic of a great cinematic experience. If you're a Cinebuzz member, lucky for you Valentines Day lands on Half Price Tuesdays! Get more bang for your buck & make sure to grab dessert afterwards. It's the perfect opportunity to discuss & unravel your favourite points of the movie with your date!

Frozen Yogurt Date
Ice-cream dates are always a winner, but have you ever been on a frozen yogurt date? Yo-Chi Frozen Yogurt has just opened up in Broadbeach! Either share a cup or have one each, you can choose your own adventure on this self-serve experience. Their huge selection of toppings range from fresh fruit, to Biscoff spead, to warm gooey brownies. You can go crazy with the flavour possibilities! Although just keep in mind, it's pay-by-weight.
Take this year's Valentine's Day on the Gold Coast to the next level! Buy online today and save on all putt putt tickets!
Tags: Valentines Day, Gold Coast, Date, Cinema, Mini-golf, Putt Putt, Frozen Yogurt, Picnic
Related Articles