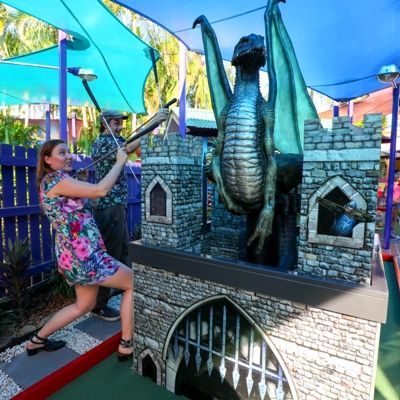 Gold Coast mini golf is fast becoming the new games night for locals and visitors alike. Mates, families, friends and after work catch ups are all heading to the green for challenges, cheerses, to celebrate and share a few giggles.
But if havin' a ball with a bunch of your favourite people wasn't enough to flip your Monopoly board, here's exactly why people are choosing putters over Pictionary.
Play any time, day or night!
Kickin' back with your mates shouldn't have to wait until Daveo brings back the Scrabble. Instead, have a crack at Gold Coast mini golf 7 days a week, 9am – 10pm!
After your surf, before the big game, on Sunday arvo when the kids can't sit still... Head into Mermaid Beach for a hoot of a time, with no booking or equipment required!
Spinners, obstacles and motorised challenges!
Sick of your Twister spinner flying across the room? Backyard obstacle course messing up the lawn? Come to our place instead! Scattered within our Gold Coast mini golf courses, we have loads of spinners, obstacles and motorised challenges with your name on them!
Spinners
On-course spinners direct you to hit your ball with your foot, dodge human obstacles and even add more points to scores! These cheeky spinners are scattered throughout all three courses and will spice up the challenge of your next game!
Obstacles
Life-sized giraffes, gorillas and elephants are just some of the obstacles you'll find on our Jungle Trail. Dodge giant frogs, jump running streams and putt into lighthouses on Waterways. Or if fairytales are your thing, explore princess castles and fight off dragons on Fun Run!
Motorised Challenges
Can you loop-de-loop, putt past windmill blades and through motorised spinners? There's only one way to find out! Across our Gold Coast mini golf courses you'll find all kinds of motorised obstacles to take your game to the next level!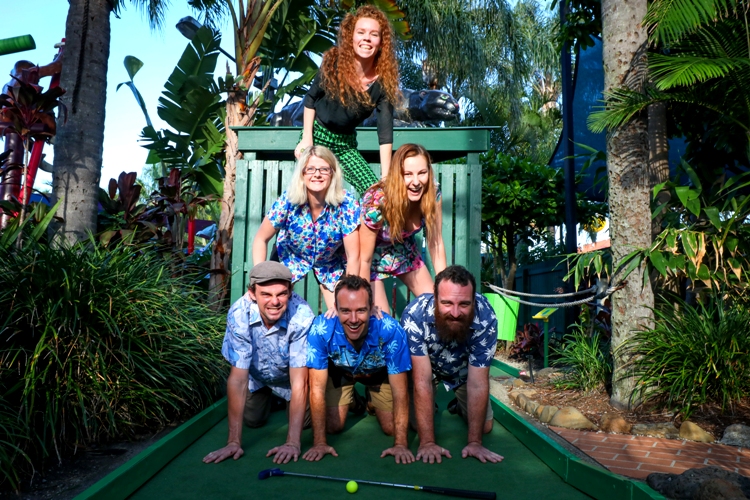 Drinks and Snacks at the Ready!
Games nights can be fun, but when the Jatz run out, the punch runs dry and there's not a chip left in sight – it can be a real downer. When you choose to get amongst a few games of Gold Coast mini golf, that's never a worry!
19th Hole Kiosk
We welcome you to stock up on snacks and refreshments at the 19th Hole Kiosk, or drop by any of the many surrounding eateries. There's no shortage of tasty treats to enjoy (that aren't salted nuts and lollies!).
Cheersing for All Ages
A game's never truly complete without a celebratory cheers! And when you visit us for a Gold Coast mini golf game, you can cheers, too! Putt Putt Mermaid Beach offers slushies, fruit juices and fizzy drinks for the kids. Then beer, wine, vodka slushies and pre-mixed drinks for the adults! Did someone shout, 'winner'?! Cheers to that!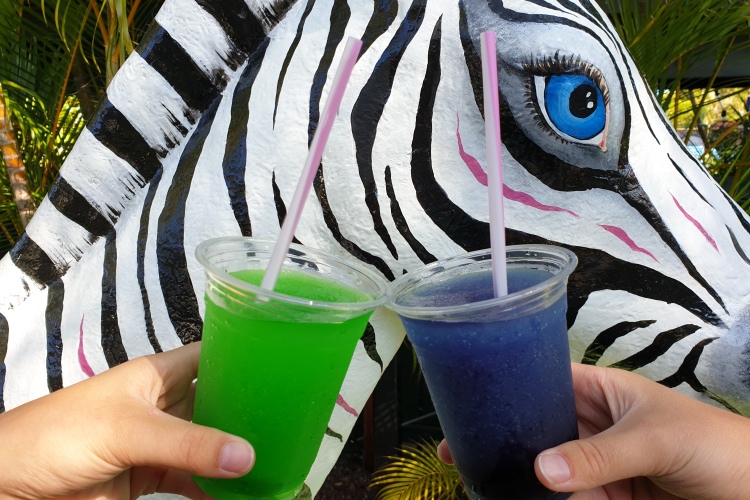 Cook a BBQ
Don't worry about filling up the gas bottle again. Instead, use our free BBQ facilities to cook your own feast at our Gold Coast mini golf foodie hideaway. Seating 10 - 80 people, the Jungle Retreat is yours to use free of charge for all paying guests. Yahtzee!
BYO Food
If you're set on making your signature cob loaf, really love the idea of getting pizza delivered or just want Jan to bring her devilled eggs, we say go for it! We want you to have the best time possible, so you can choose to bring all your eats, knowing full well that we have backup if you run out!
All the Games in One Place!
On games night, the hardest part of all is deciding which one to play! But when you choose to play Gold Coast mini golf, your options are infinite! Why play just one game when you can play three whole courses and hang out in the arcade games room?


Mini Golf
Our three mini golf courses are suited to all ages and groups of any size. Each with their own unique themes, play best of three games and the winner takes the crown!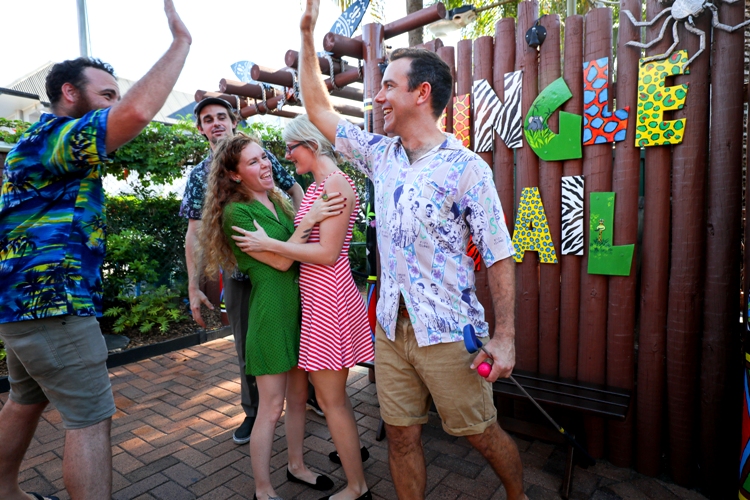 Pool
Show your mates who the real pool shark in town is! Grab a cue and ready the balls, take your visit to our Gold Coast mini golf fun station to a whole new place of game central!


Arcade Games
Air hockey? Dunkin' hoops? Ridin' ponies? Play your way around loads of games on offer in our exciting arcade room. The best part is, that if you didn't win best of three on the green, you're in for a shot here!


Never Lose Score
Who won the last round of Cards Against Humanity? Who's ranking first in Cluedo? Who's the reining Balderdash champ? Who knows! With every game of Gold Coast mini golf you'll have a scorecard to keep tally of the true winner.

Going paperless? We like you. Check out our Scorecard App!



Glory for the Champions!
When you switch playing Uno at home and play Gold Coast mini golf instead, your winner's never left unnoticed! You know what we mean? *wink*
Pull up a seat on our Champion's Throne for the ultimate ending to your fun-filled day out! … Or if you came second, sneakily snap a pic in the throne. We won't tell if you don't.
Ready to ditch guessing puns for hole in ones? Grab your Gold Coast mini golf tickets online for 10% off!