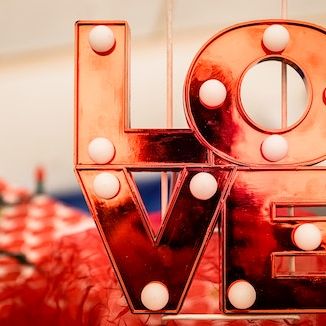 Aaah, the most lovey-dovey day of the year! We've got absolute heart eyes for cupids favourite day. And rumour has it that spending Valentine's Day on the Gold Coast with your love is at the top of your list this week.
But where to start? What to do? And most importantly, how can you organise a fun (yet romantic) Valentine's Day!?
With a whole bouquet spilling with things to do on the Gold Coast this V Day, show your other half (or ultimate #squad), that you totally care.
Because we hate to break it to you, but... To win your lover's heart this Valentine's Day, you're going to have to try a little harder than handing them some sad servo flowers or picking up a Lynx shower pack.
Actually, you're looking to have to try a lot harder. That's why we've put together some pointers on how to make your special person's day one to remember. You can thank us later.
Here are all of the sweetest, cutest and downright thoughtful things to do this Valentine's Day.
1. Relive Your First Date
Remember when you first met your partner? Whether it was a month ago or a decade, reliving your first date is one surefire way to reignite that spark you two have - and hello, totally romantic! Were you two scallywags at a music festival? Why not check out a local Gold Coast band in Cooly, Broadbeach or your regular stomping ground?
Pssst... On Valentine's Day this year, gigs are playing at Southport Sharks, The Island Rooftop, The Cooly Hotel and Roosevelt Lounge – to name a few.
Maybe it was a chance meeting in a coffee shop. Go and grab a cuppa with all the extras. Or better yet, 'accidentally' bump into your love at your first meeting spot and reenact your first date all over again!
We've had many a first date at Putt Putt Mermaid Beach so why not share the love with a game of putt putt? Did you know we've even had lovers get engaged on our courses while reliving their first dates? Yep, we lit candles for them and everything. Ca-ute!
Was your first date with us? Buy tickets online and save 10% this Valentine's Day!
2. Book a Local Getaway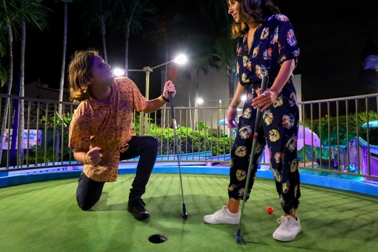 Who says you need an entire travel fund to enjoy a midweek holiday with your other half? We've rounded up all the best places to stay in Mermaid Beach. And spoiler alert: They're pretty darn magical.
If you're looking for a last minute thing to do on the Gold Coast this Valentine's Day – this is our top pick.
3. Be Kids Again
Bring out your inner kid this Valentine's Day because nothing says love like getting silly. Plan a day full of lovin' your other half in playful ways that are destined to make you feel that school kid giddy love - no matter your age! Our putt putt courses are the perfect place to play a sneaky game while having fun wooing your special someone. And psst… Here's exactly how to win at putt putt.
Choose from one of our fantastically themed courses. Or, play all three! There's the Jungle Trail with it's swaying palms and exotic animals. Our dazzling waterways course (particularly magical at sunset or night!). And our Fun Run, with tricky obstacles and themed holes!
Which course will you be giggling through?
4. Wine and Dine Your Other Half
Sure, you can go out any night of the week. But the Gold Coast is really turning up their love-o-meter this Valentine's Day. Here are some of the best dinner specials going.
The North Room – Six courses of the chef's finest selections and a glass of bubbles on arrival!
Lupo – A short skip from our place, these guys are open as usual and dishing up seriously tasty eats
The Star – You can't go wrong with a romantic meal at The Star! Choose from five restaurants!
FuFu's – Can't decide what you feel like ala The Notebook? Enjoy American and Chinese at Fufu's
Poke Poke – For a more relaxed date, check out these delicious poke bowls
Cambus Wallace – If it's just for the grownups on V Day night, Nobby Beach's whiskey bar is where it's at
5. Putt Putt is a Perfect First Date, Too
So, we could go on all day about why putt putt is a perfect first date (and why you should totally come and visit us). But we're going to lay it down straight for you with some of the reasons why.
Mini golf is affordable so you won't break the bank
We're close to many top-notch eateries so you can wander down before or after your game
Putt putt's also an easy and totally comfortable way to break the ice for first dates
And if we're entirely honest, anyone can do it!
If it's fun you're after this Valentine's Day, check out our ticketing options where you can buy online (and avoid the payment line shuffle). A guaranteed successful date!

6. Ice Cream = Happiness
If your Valentine has a sweet tooth, spoil them with an ice cream date after your game on the green. After all, you're going to need something to refuel your stamina for your next round! Want to know one of the cutest things to do on the Gold Coast this Valentine's Day? Link arms and share a sweet treat like they do in the movies.
Our 19th Hole Kiosk has delicious treats waiting for you! Or, you're welcome to have food and drinks delivered to eat at our place. Ubereats and Deliveroo pull up right to the door!
7. Sunset Putts
Gold Coast sunsets are darn romantic if you ask us. So catching one this Valentine's Day is an absolute must.
Maybe you chose to spend the day Netflix and chillin'. With your cat... Or eating homemade heart-shaped pancakes (that sounds like a pretty good day!).
But it's time to stretch the legs and end the day on a high. Join us for a game of putt putt while the sun melts into the horizon. And stick around for a game of twilight mini golf! We're open from 9 am, right up until 10 pm, so it's always a good idea to swing on by!
8. Check out the Mermaid Beach Nightlife
If you're planning on hanging out at Putt Putt Mermaid Beach this Valentine's Day, once you've captured a selfie in one of our many hidden lovers spots, played a game and scored some sweet treats from yours truly, here are some delicious places to grab a bite and finish the night with a romantic dinner for two.
Take this year's Valentine's Day on the Gold Coast to the next level! Check out our ticketing options and buy online today and save a love-filled 10% on all tickets!
Tags: Valentine's Day, Date Ideas, Date Nights, Gold Coast Valentine's Day