Events
Putt Putt is Turning 50 and You're Invited!


This year we're celebrating a HUGE milestone… Putt Putt Golf's 50 Years in Australia!

What: In true Putt Putt fashion, we're hosting a Gold Coast community festival bursting with fun!
When: Saturday 21 September 2019; 9 am – 10 pm
Where: Putt Putt Mermaid Beach; 2492 Gold Coast Highway, Mermaid Beach, Queensland
Tickets: $15 - Child / Student / Concession
$19 - Adult
FREE - Child 3 years & under

Take a Walk Down Memory Lane with Us!
Remember when McDonalds used to be right next door to us? How about the Mermaid Cinemas and Magic Mountains Chair Lift? Join us as we unlock all kinds of retro memorabilia from the Gold Coast's past (including some hilarious old videos of us too!).
What to Expect from Our Community Festival
The most exciting part about this event is that it's all-inclusive! Yep, once you're through our doors, everything is
included!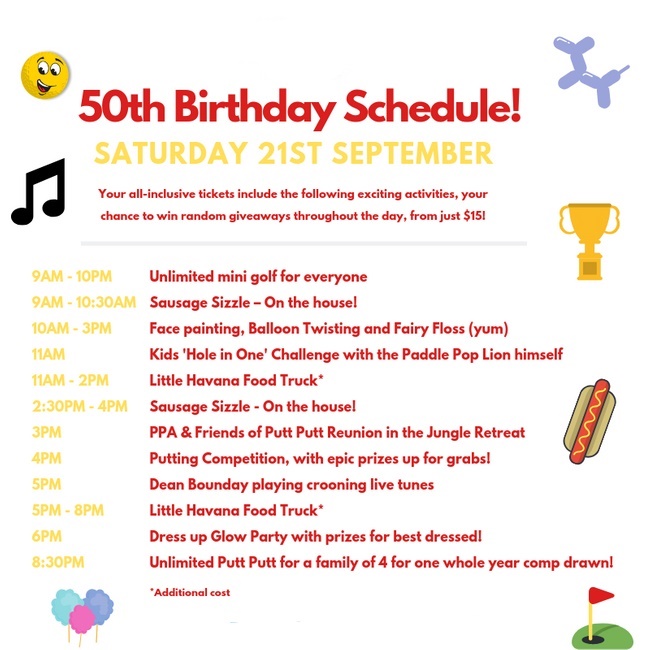 Make sure you're following us on Instagram and Facebook where we'll be dropping more information!
Want to win Unlimited Putt Putt for a whole year?
All guests will get an entry into the draw to win this money can't buy experience at our 50th Party! A lucky family of 4 will get to play unlimited games on our 3 themed Courses for 12 months.
Friends of the PPA Reunion
At 3pm we will host a reunion for all players and friends of Putt Putt & the PPA. Meeting in the Jungle Retreat to officially blow out the candles on Putt Putt's Golden Jubilee! Join us to catch up with old mates and reminice about good times.
Learn more about Putt Putt's fascinating history here.