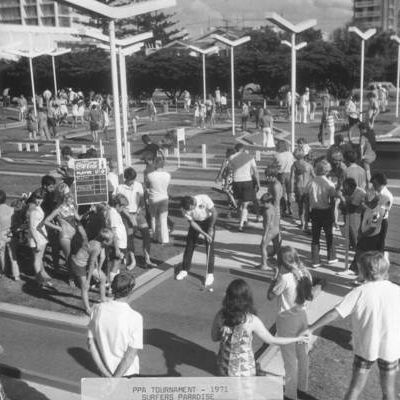 In celebration of Putt Putt Golf's upcoming 50th birthday, we decided it was finally time to unlock the vault and share our history with you.
Sure, we've shown you the interesting history of mini golf. But what about your favourite putt putt fun-hub on the Gold Coast? AKA Putt Putt Mermaid Beach. Wink!
Did you know that our Gold Coast Putt Putt courses haven't always called Mermaid Beach home?
What about that we're still owned and operated by the same families as we were just shy of half a century ago?
Get all nostalgic, learn more about the Gold Coast's history and reminisce about your own memories.
Here's the fascinating history of Putt Putt Mermaid Beach!
Putt Putt in the Beginning
It was the mid-1960s and Tom Wykoff was overseas on holiday with his family when he first discovered the game of Putt Putt.
While mini golf had been around for some time, Putt Putt introduced a new way to make the game even more skillful and fun.
Tom was intrigued, curious and so very excited from the get-go!
What's the difference between Mini Golf and Putt Putt?
Putt Putt positions obstacles in a way that makes it possible to get a hole in one on every hole.
Mini golf, on the other hand, has courses designed to make it far trickier to sink your ball.
When Tom Met Don
Although Tom Wykoff first came across Putt Putt in 1965, it was first invented by Don Clayton in 1954.
Hearing of Tom's keen interest in the sport, Clayton met up with him and the rest is history.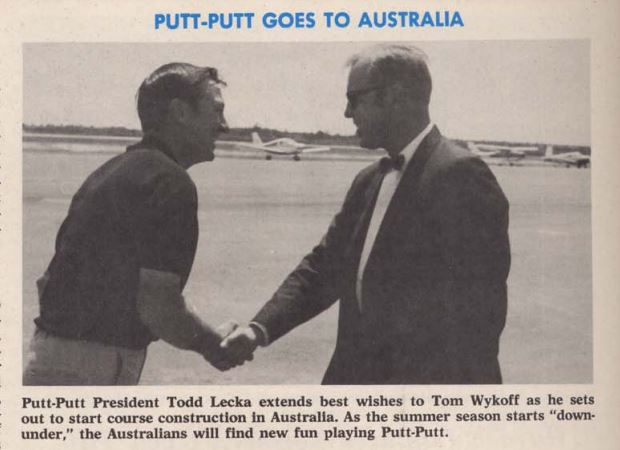 Tom Wykoff Opens His First Putt Putt Courses
Within two years, Tom had built 64 18-hole courses in 33 locations across Rhodesia, Winhook and West South Africa. Because of their popularity, these putt putt courses would stay open until 3 am.
Fun Fact: Mr Wykoff bought the legal rights to the name "putt putt" for his courses. However, as popularity grew, the term became synonymous with the sport.
But sadly, in 1968 the government ordered Tom to close on Sundays. Since this was the biggest day for people to visit the courses, many of the locations became unprofitable.
So, what's a man to do? Not give up, that's what!
In 1969 Tom moved his family to Australia and the Putt Putt Mermaid Beach story began to unfold…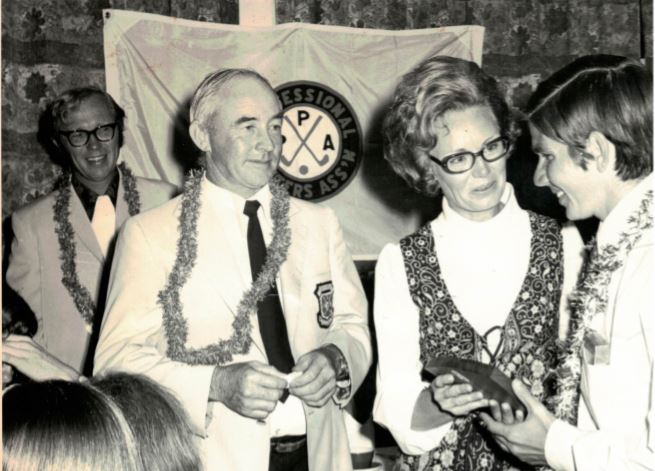 PPA Presentation Mr Tom Wykoff (back left) & Mrs Ellie Wykoff
The Beginning of Putt Putt on the Gold Coast
Continuing to live out his Putt Putt dreams, Tom opened Australia's first ever Putt Putt Golf course on Hanlan Street in Surfers Paradise.
On September 19, 1969 Sir Bruce Small, Mayor of the Gold Coast putted the first ball and its opening was front page news.
Here Tom met Jon Norton who became the first appointed manager of the Company's chain of Putt Putt locations in Australia.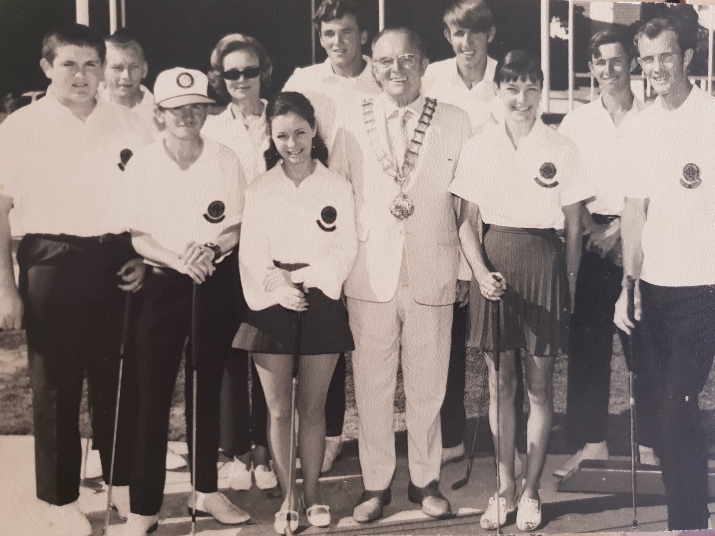 Back Left: Mrs Ellie Wykoff. Centre: Mayor Sir Bruce Small. Front Right: Lorna & Jon Norton
Fun Fact: Jon's family continues to manage the Putt Putt Mermaid Beach location today!
In 1970, Tom hosted Australia's first Professional Putters Tournament with a $500 cash prize!
Want to know who placed 4th? Our very own Lorna Norton who was the first Australian Ladies Professional Putter and still works in store with us today!

Picture: Lorna Norton. Video: Tom Wykoff talks to Extra on Putt Putt's 30th Anniversary
With just 2 years on the Surfers Paradise lease, Tom started looking for a permanent location on the Gold Coast. When he scouted out a 1 ½ acre site in Mermaid Beach, he knew it'd be the perfect fit.
Moving Putt Putt from Surfers to Mermaid Beach
When 1973 rolled around, Putt Putt Mermaid Beach officially set up shop at its new site!
McDonalds opened next door (now Mermaid Beach Tavern) followed by movie cinemas and later Sizzler. Mermaid Beach soon became a central hub for family entertainment!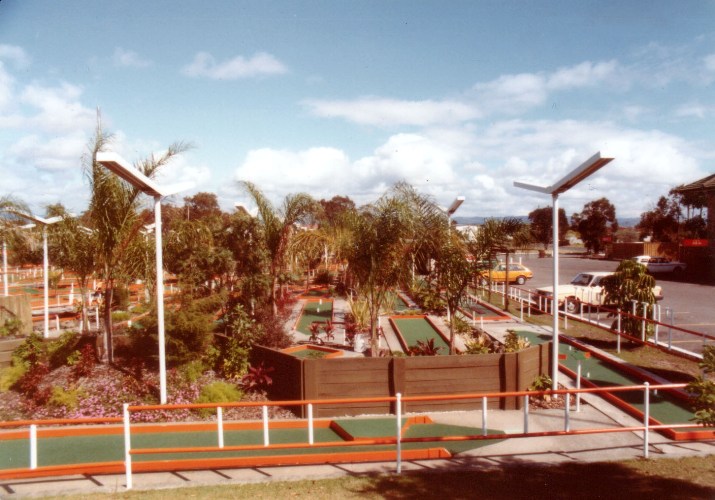 Putt Putt Mermaid Beach 1970's
Tom built 26 Putt Putt Courses in total around Australia and New Zealand.
Course locations in 1983
In 1984, Tom had a lightbulb moment and recalls:
"I realised putt putt was in the business of happiness, not just competitiveness."
And so, each course was themed to offer an exciting, unique and fun experience on every visit.
We were coined a "miniature Disney Land" and in the early days, live turtles and fish lived in the streams of our Waterways course. It certainly wasn't quite as mesmerising as the beautiful blue lagoons you'll find today!
50 Years On…
Five decades later and Putt Putt Mermaid Beach is still owned by the Wykoff family. And in-store, Putt Putt Mermaid Beach is still managed by the Norton's.
You'll still find Lorna, daughter Collette and Tim behind the counter, on the green and smiling at you 7 days a week!
Out of all Wykoff's Putt Putt courses, Putt Putt Mermaid Beach was one of the first he opened, and is his family's last still flying the flag of fun. We feel it's our responsibility to continue to bring you the party, fun and good times in honour of Mr Wykoff's legacy!
That's why we'll be inviting you to celebrate our 50th Birthday Party on 21st September this year! Learn more>
We'd love for you to share with us your old school memories and images of playing Putt Putt on the Gold Coast or any of our locations around Australia! Leave your favourite memory in the comments below, send us an email at info@puttputtgolf.com.au or share with us on social media #puttputtmermaidbeach .We can't wait to hear them!