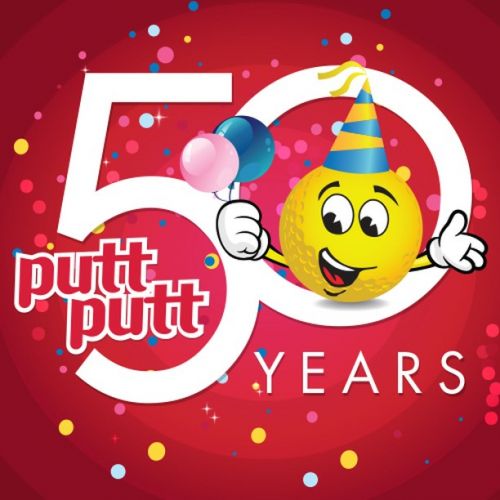 In case you've been living inside our giant, highway-side golf ball – Putt Putt is turning 50! And to celebrate, we're hosting an unforgettable, all-inclusive community festival on the Gold Coast. Running from 9 am - 10 pm on Saturday September 21, join us for an exciting day (and night) of super fun party times!
This includes special extras like your chance to win unlimited putt putt for a year, sausage sizzles, prizes, competitions, face painting and more.
What's Included in Your Ticket Price?
Yep, you read right! Your ticket price is all-inclusive. Meaning? Once you enter our gates, the rest is free! Below we'll take you through what's on and when. This way you can plan your day around what you'd like to attend (good luck narrowing it down!).
Where Is It?
Head to our place, any time you like between 9 am and 10 pm. Just pop by, stay for the whole day or come and go as you please – the choice is yours. Here's our address in case you haven't visited before:
Putt Putt Mermaid Beach; 2492 Gold Coast Highway, Mermaid Beach, Queensland
How Much are Tickets?
Tickets start from just $15! Don't miss out – Score your ticket today!
What's On?
Good question! Here's a look at the fun to unfold on Putt Putt's 50th Birthday. We've gone all out to create a day that's perfect for kids, families, teenagers and adults alike. We can't wait to see you there!


All Day: Unlimited Putt Putt!
For the first time in Putt Putt Mermaid Beach's history, we're offering all guests unlimited putt putt! Yep, any time between 9am and 10pm, you can play as many games as you like!
Get in some extra practice for your next game with friends, challenge different family member's or set a timer and see if you can finish a course quicker each time! With your very own bottomless supply of balls, you're bound to get a hole in one sometime!


9 am - 10:30 am: Free Sausage Sizzle
Playing putt putt is incredibly fun, but you'll likely need your stamina! Get in early for a sausage sizzle brekky (AKA the breakfast of putt putt professionals, we've heard!).


10 am - 3 pm: Face Painting, Balloon Twisting and Fairy Floss
It'd only be fitting to include some carnival-themed activities on Putt Putt's birthday, right? Because our Fun Run Course is filled with motorised obstacles, flashing lights and even a spooky haunted house.
To keep those circus-vibes high, you can have your face painted as your favourite animal, watch our kooky balloon artist twist zany creation out of thin air and even eat what we like to call 'happiness on a stick!' Yes… All included in your ticket!


11 am: Kids 'Hole in One' Challenge with Paddle Pop Lion
Is your little tacker a putt putt fanatic? Maybe they just like to try their luck on the course. Either way, we're sure they love ice cream! The Paddle Pop Lion is joining us with some epic prizes while the kids enjoy light-hearted hole in one competition on our smiley face hole. All in the name of fun, of course!


11 am - 2 pm: Little Havana Food Truck*
If you're anything like us, weekends are for #cheatmeals. So you'll be pleased to know that Little Havana Food Truck is dishing up tasty eats at our 50th birthday party at lunchtime. Think OTT burgers, fries and hotdogs. Um, Yum!
*Treats from Little Havana aren't included in your ticket price, but everything else is!


2:30 pm - 4 pm: Free Sausage Sizzle and Afternoon Cheersing*
After a long day of putt putt games, celebrations and fun times with friends, you deserve a sausage sizzle - On the house!
FYI: Did you know that Putt Putt Mermaid Beach is now licensed? Sip on a cold one while you chomp on a sausage sanga. Not a bad Saturday arvo, right?

*Alcohol is not included in ticket pricing.


3 pm: PPA & Friends of Putt Putt Reunion in the Jungle Retreat
We're lucky enough to have been a part of many gatherings over the years. And putt putt fanatics often met in our Jungle Retreat for a BBQ after a game in Mermaid Beach. We invite all the friends of putt putt to gather round at 3 pm and reconnect.


3:30 pm: Cutting of Putt Putt's 50th Birthday
What's a birthday party without a birthday cake?! Join us for a slice of delicious vanilla or chocolate cake as we look back at the history of one of the Gold Coast's longest-standing icons. We're not crying, you're crying!


4 pm: Putting Competition and Epic Prizes
We're kind of obsessed with giving away free stuff! And you're seriously not going to want to miss the prizes we have up for grabs. Try your luck at winning putt putt competitions or simply random giveaways just for being here. And if competitive putt putt is your jam, now's the time to putt your stuff!


5 pm: Dean Bounday Playing Crooning Live Tunes
Picture this: The sun's setting, putt putt ignites into a dazzling oasis, you're snacking on some fries and live music plays in the background. Woo hoo – Dean Bounday is bringing all his strumming talent to Putt Putt Mermaid Beach! Kick back and enjoy with some of your favourite classic hits.


5 pm - 8 pm: Little Havana Food Truck*
Back again for dinner, Little Havana is bringing their Americana treats to putt putt lovers at our place!
*Treats from Little Havana aren't included in your ticket price, but everything else is!


6 pm: Dress Up Glow Party with Prizes for Best Dressed
Come dressed in your best glowing outfit for your chance to win a bucket-load of epic prizes! Dust off that glowing halo, your trusty glow sticks and fun glow in the dark glasses.


8:30 pm: Unlimited Putt Putt for a Year Competition Drawn
It's true! We're giving away a money-can't-buy experience to one lucky family of four! Everyone who comes on the day can go in the draw to win unlimited putt putt for one whole year – it could be you!
We can't wait to celebrate 50 years of putt putt with you. Get your tickets today to join our fast-track line on entry!