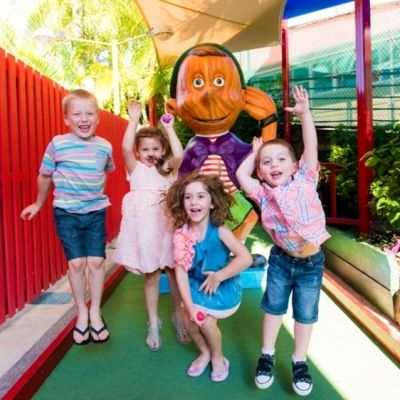 You know you want an action-packed Vacation Care excursion on the Gold Coast... But 'where?' Let our friendly team at Putt Putt Mermaid Beach take your next outing to the next level! From mini golf activities and lunchtime facilities, parking and shade – we cover it all!
As a Gold Coast icon on the main drag in Mermaid Beach, we've remained a popular option for Vacation Care groups for decades. We invite you to check out what to expect when you book your next Vacation Care excursion with us!
3 Fantastically Themed Putt Putt Courses
We love seeing kids' faces light up when they discover our magical putt putt courses! The best part is, they don't have to choose just one to play. Our affordable group packages mean kids can play unlimited games all day long.
Each course takes around 45 minutes to 1 hour to complete, depending on group sizes and we recommend teams of 4 playing on each hole. This way, the games move on quickly and everyone gets a turn! Kids who often get distracted love this fast pace too and in our experience, keep their eye on the prize!
Here's what to expect from each dazzling course.....


An explosion of colour, whimsical characters and tricky motorised obstacles - That's just the beginning! Fight off a medieval dragon, whiz around our loop de loop and visit a castle worthy of a fairy tale ending (your hole in one). Time your putt to perfection at the spinning windmill, pass through pirate's treasure and a not too spooky haunted house. Play rain or shine with all 18 holes covered by waterproof shade sails.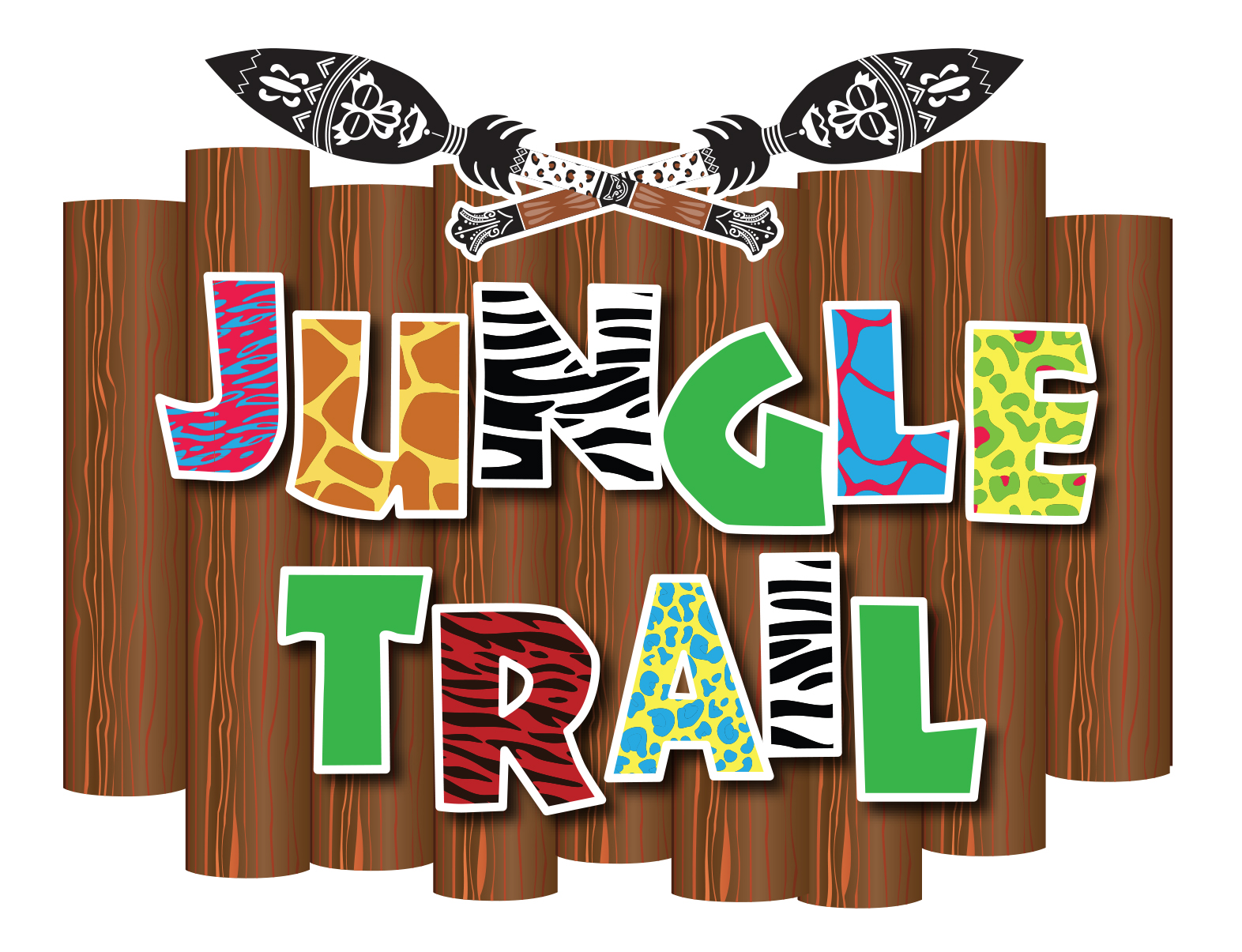 Take a walk on the wild side in our tropical Jungle Trail. Get amongst our tribe of animals, have a chat with a talking parrot, meet the 'King of the Jungle' himself, hug a big ol' grizzly bear and see some friendly elephants who really love the sound of their own trumpets as you putt away on safari.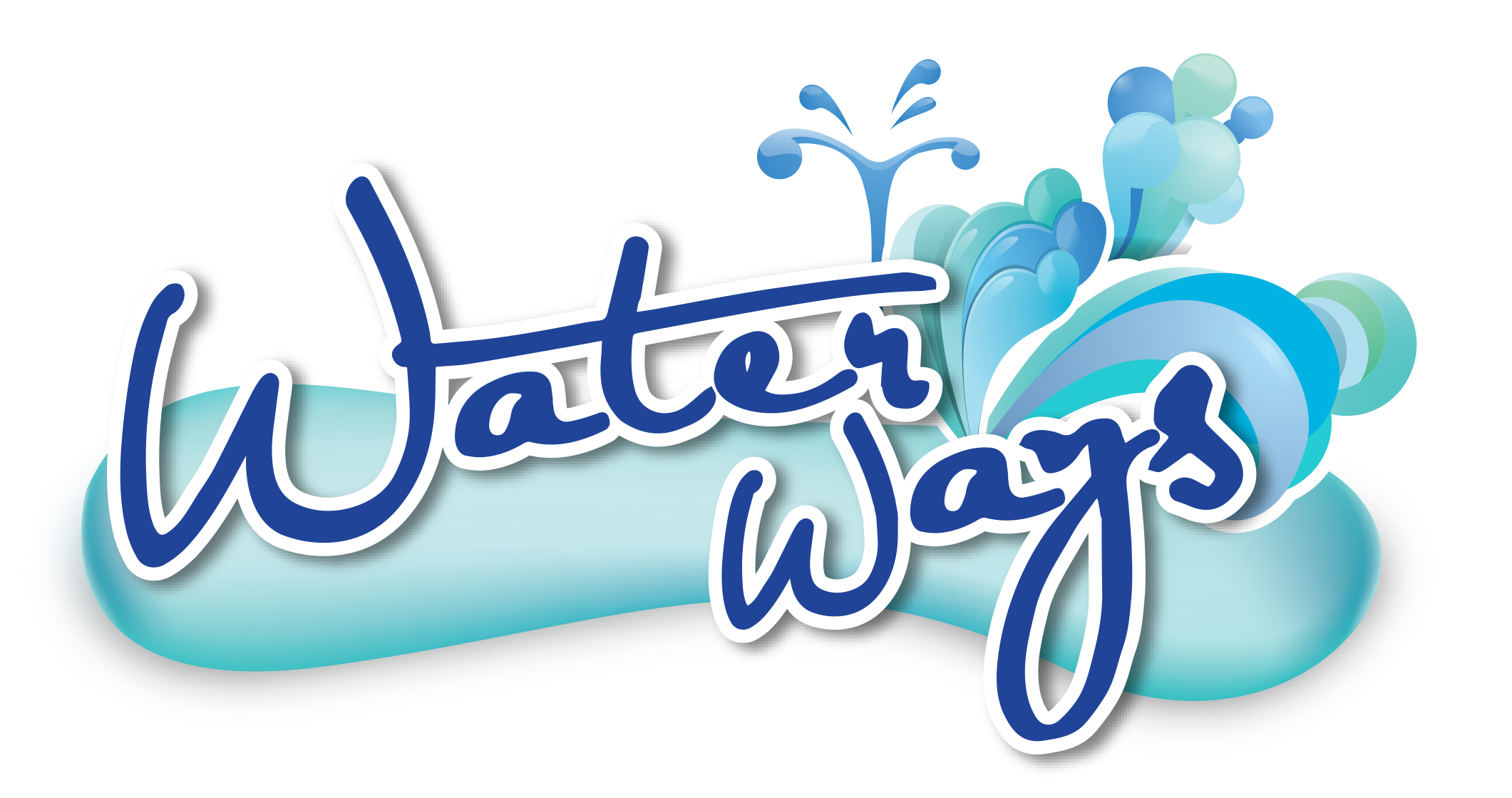 Did someone say putt putt paradise? Get all swept up in a tropical oasis of cascading waterfalls, cheeky turtles, shipwrecked pirates and a frolicking dolphin on our Waterways Course. Hang out along the shimmering blue lagoon, tip toe over wooden bridges and take on the challenge of our Tiki spinners.
Affordable All-Inclusive Packages
You're busy. So you want to know that everything will be under control when you reach your Vacation Care excursion location. Good news – it will be with us! Our all-inclusive packages make for a fun, hassle-free day, all in one place! How good is that?
Vacation Care Packages Include:
Putt Putt
Icy pole or slush puppie
Reserved picnic area
Iced water drink container (just BYO bottles!)
Activity coordinator
Want to add some extra fun to your Vacation Care package? Get in touch with our friendly team to discuss your group's needs to a tee.
Price:
1 x 18 Hole Course for just $13 per child
Unlimited courses for $16 per child
Wanna know the best bit? Educators play free!
Reserved Dining Areas for Your Group
Whether you're stopping by for morning tea or lunch, we'll specially reserve an area at Putt Putt to suit your group size. This will be a handy meeting place and spot to relax for lunch (feel free to bring your own food, order snack packs from the 19th hole kiosk or have it delivered!).
Here's a taste of each area's facilities.
Jungle Retreat
Fun Run Hut
Indoor Party Room
Click here to check out more about these group facilities.


BBQ Facilities
The Jungle Retreat BBQ area is the perfect place to stop for lunch and is suitable for groups of up to 100 children!
Here are some simple ideas to whip up for your group on our BBQ (simply bring your food, tongs and plates)
Sausage sizzles – Ahh, the old classic. Simple, easy to switch up for gluten free and vegetarian options.
Hot dogs – Add in mustard, switch bread for buns and sausages for wieners. Simple!
Cheese burgers – Patties, easy to flip, easy to teach how to cook!
For more feasting inspiration, check out these spiffy BBQ ideas.
Your Own Dedicated Coordinator
We'll run you through how to play putt putt, size up putters for all children and remain as an animated helper throughout your entire visit. All our staff offer enthusiastic assistance to you and your group.
Easy Parking and Travel Options
We're here to make your day run as smoothly as possible. And you'll be thrilled to know that it's easier than ever to get to us.
If you're travelling on a fun-filled private bus, you have two options for parking:
Bus parking is available onsite, or
Crescent Avenue, right next to us
We have ample car parking onsite and are also located on the Gold Coast bus line. For all travel information you'll need on how to get to us from Brisbane, Northern NSW or the Gold Coast check out this page.
Weather Protection
It's important to you that a Plan B exists, and here at Putt Putt Mermaid Beach, you can play rain or shine. All 18 holes on our Fun Run course are completely under waterproof covers. There's also plenty of shade on all three courses and surrounding picnic areas.
The Jungle Retreat BBQ area is covered by a large pergola and we even have an indoor, air conditioned party room available.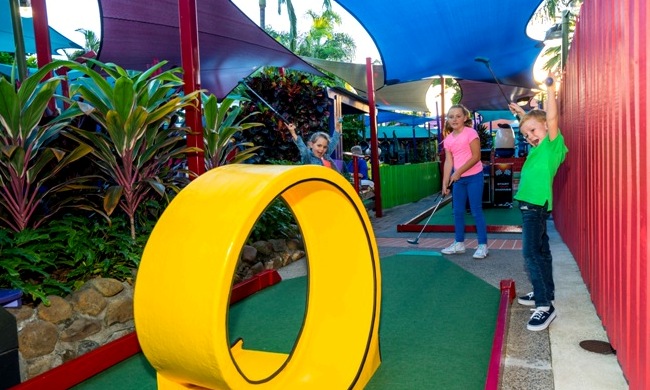 All Bases Covered
This isn't our first putt putt rodeo! We have all bases covered for your next Vacation Care excursion with all the documentation you need.
Public liability insurance certificate
Risk Assessment
Fire Evacuation Plan
Each of these documents are available for you to download. Simply get in touch and we'll send them through!
Book your Vacation Care excursion with us today to secure your date. No deposit necessary.
Call our friendly team on 07 55753381 or Email Us
Tags: Vacation Care Excursions