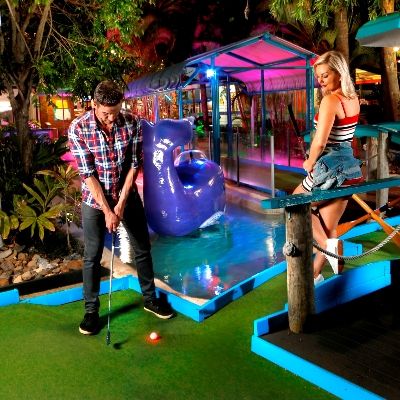 Did you know that Putt Putt lights up after dark? That's right! Our Waterways course is a serious showstopper for Twilight Mini Golf right up until 10pm every night! With our sparkling festoon lights, flowing water features & glistening rainbow lagoon, it truly makes one magical date.

That's why we're giving up our recipe for the perfect date night – think delicious food, cocktail specials, and mini-golf fun. Here are 5 of our favourite local restaurants right here in Mermaid Beach which are sure to amplify your date night. And not to worry, if you're with the family they're kid friendly too!
Mermaid Beach Tavern
Starting with our long-time neighbour Mermaid Beach Tavern, open for dinner from 5pm – 9pm Monday through to Sunday. Only late last year they reopened their doors after an ever so sweet 2-storey makeover and boy, have they blown it out of the water! What can you expect from dining at the local bistro? The best pub classics on the Gold Coast. Steaks, pizzas, burgers, salads, share dishes… there really is something for even the fussiest of eaters!
If you want to score yourself a sweet deal, we recommend dining on a Monday night for their epic 2-4-1 meal deal with any drink purchase. Or, for the steak lovers we recommend dining on a Thursday night for their $20 Steak & Topper offer. Choose from garlic prawns, grilled mushroom, onion rings, or chicken wings with your perfectly cooked cut! The best part is it's just a hop, skip, and a jump from Putt Putt!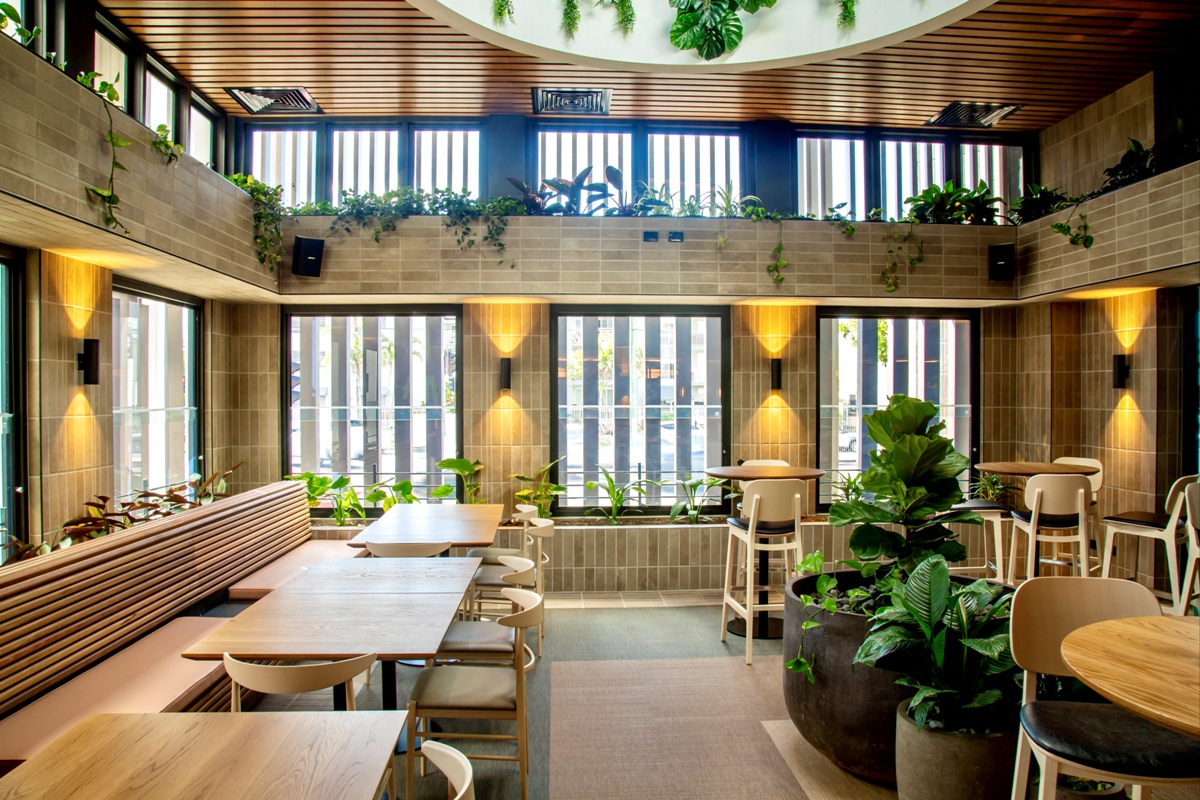 Bonita Bonita
Next up on the list, we've been dying to taco 'bout! Bonita Bonita, a popular Mexican restaurant amongst the locals and only a 3-minute walk from Putt Putt! What better way to experience the ultimate date night than in a romantic, dimly lit setting? Bonita Bonita's menu is bursting with flavour combinations, and all served with locally sourced, fresh produce – a double win. Of course, it's an unwritten rule that a margarita is a must with your meal... they're the perfect duo! Open for dinner Monday to Sunday from 5pm till late, we recommend dining on a Thursday night for $5 Taco's. Thursdays are the new 'Taco Tuesdays'!


Muso Ramen
If you're looking for the most authentic ramen around after a game of mini-golf, Muso Ramen & Gyoza Bar is our go-to restaurant! Experience the soul food of Japan right at our doorstep. Keep an eye out for their monthly cocktail specials too. This month they've whipped up the "Kyoto Viridian", consisting of Suntory Roku gin, Matcha powder, RIEN pear liquor, and Yuzu syrup with Soda. Sounds fascinating right?! Why not try something new and drop in to this iconic Mermaid Beach restaurant open for dinner on Wednesday to Sunday from 5pm - 8:30pm.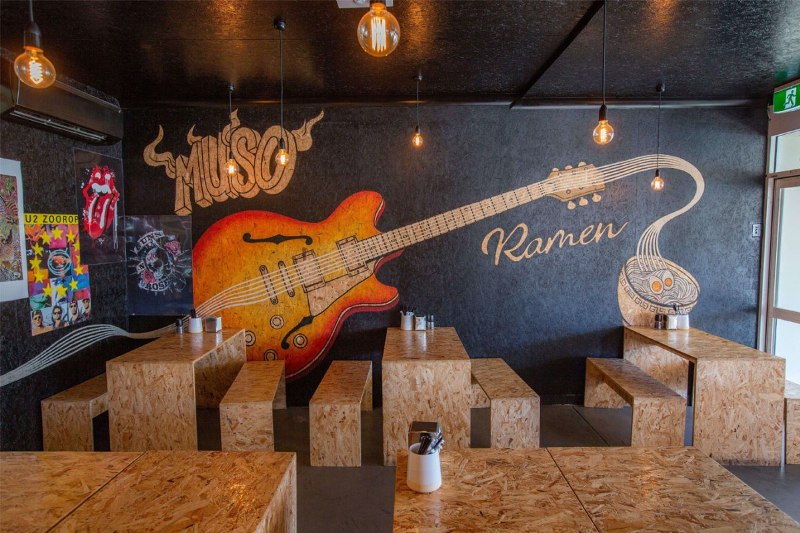 Etsu Japanese Izakaya
One of the best places to go on the Gold Coast for any occasion, Etsu is a short stroll from Putt Putt Mermaid Beach. Modern Japanese eats designed to be shared, Etsu is a cut above the rest for a complete dining experience filled with delicious bite sized pieces of absolute heaven. You may just feel that you've been whisked away to the streets of Tokyo!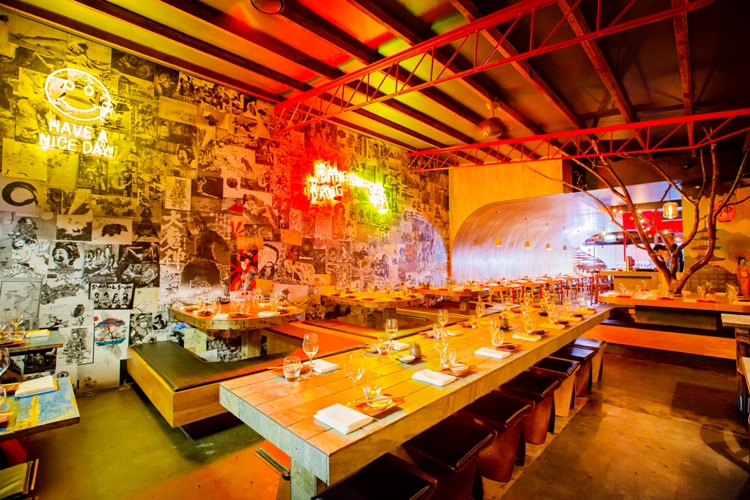 Goccia Italian Pizzeria
Last but certainly not least, is Goccia Italian Pizzeria. If Twilight Putt Putt wasn't romantic enough, dine under the glistening festoon lights or get cosy next to the wood-fired pizza oven. Serving up the freshest Italian recipes – pasta, pizza, and of course share plates, you can't go wrong with ending your day with a belly full of pasta and boutique Italian wine. Only a 10-minute walk from Putt Putt, Goccia Italian is open for dinner on Wednesday to Sunday from 5pm - 8:30pm. This one is not one to miss!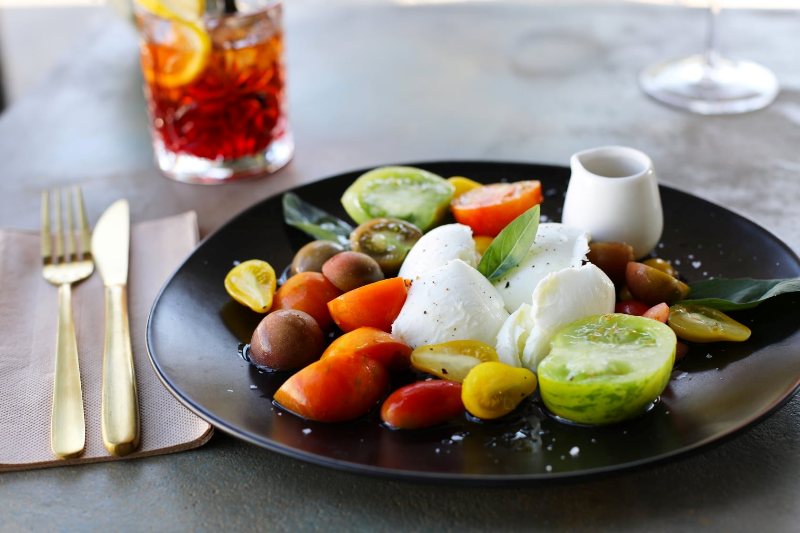 📸: Janna Hrastovec
So, whether you're up for magical game of Putt Putt at sunset or you prefer to wine and dine beforehand, make your date night one to remember! Twilight Putt Putt never disappoints. Don't forget to check out our awesome Shooting Star Special for our night-time offer, as well as an epic light-activated glow gall! We'll see you on the green!