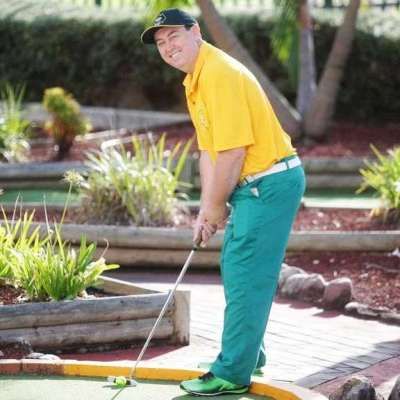 Have you ever thought that putt putt was just for kids? Well, Allan Cox is living, breathing, putt putting proof that this just simply is not the case. We chatted with Allan Cox about his professional putt putt career and learnt a thing or two about the perks of competing in mini golf. Yes, playing putt putt professionally is a real thing - there is even cash money up for grabs! Here's what Allan "The Putter King" Cox had to say about his time on the course.
What do you say to people who think that putt putt is just for kids?
"Yes, I get that a lot."
"People just automatically laugh when I tell them I play competition Putt Putt or Mini Golf. Then I tell them I have played overseas in the USA, New Zealand. Represented Australia in the Trans - Tasman Cup and have accumulated a total of career prize money in excess of $60,000. Then the reply is "oh really, wow."
"The general public are just not aware that Putt Putt can be played competitively. There are two professional tours in the USA. The PPA and the US Pro Mini Golf Association. The World Mini Golf Sport Federation is the governing body world wide with world titles being held every two years throughout Europe. Hopefully with the success of my YouTube channel I can help get the message out there."
Allan, you've been playing putt putt competitively for over 30 years. What have been some of your highlights?
"There have been a few highlights over the years. One that comes to mind is my first national medal play win as an amatuer at Mermaid Beach on the water course shooting [total shots for all of us not up with the lingo] a 28 last round in 1988. Also, my first national medal play win as a professional at Mermaid Beach on the Jungle course in 2004. Then there was a Pro-Am National Doubles title where I shot a 20 last round to win in Mildura. I really loved competing in the USA in 1997… And winning the New Zealand Open Pro division in 2018 was pretty big too because it was my first international win."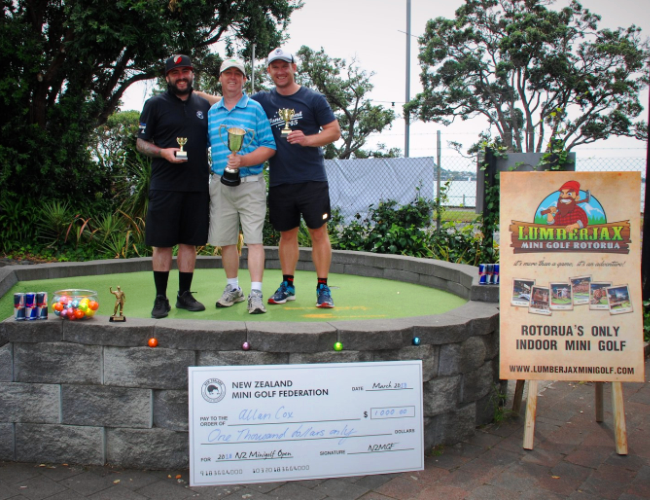 We've heard that you play 6-10 hours per week. Is this how much you would recommend someone looking to play professionally should dedicate to practice time?
"It is different for everyone. For me I need to get that speed and line down and engrained into the muscle memory. Most of that 4 to 6 hours has been dedicated to my Youtube channel [Putt Putt Downunder], some of those trick shots have taken quite a while to make. My record is 9 and a half hours of attempts over the space of a week. Having a putter in my hand for that amount of time seems to help. For national competition typically two to three days of 8 -10 hours preparation is required to be competitive. Some others with natural putting ability could spend a lot less time once they work out the shots for each hole. Then it is just a matter of repetition to be ready for competition."
Your Youtube Channel Putt Putt Down Under has over 7000 subscribers, what is it that you think people like about watching putt putt so much?
"That is a tough one. I didn't even know Youtube existed when I entered the Putter King international mini golf scavenger hunt back in 2011."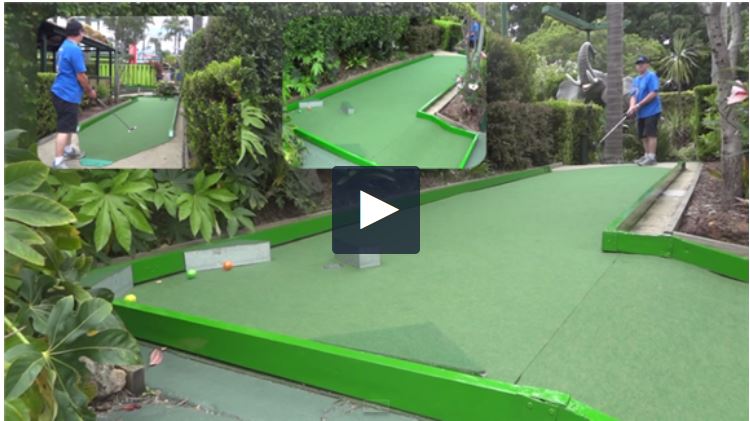 "A simple mini golf trick shot has lead to close to 7.5 million views and some fundraising for the Children's hospital at Westmead and Bear Cottage."
"My Putt Putt Downunder YouTube channel covers some Putt Putt competition, my trick shots and around 50 Mini Golf courses in my 18 series. It has been an opportunity to spread the word about competition Putt Putt and makes me quite proud to be able to support such great charities. I guess the general public are not aware that mini golf can be played at such a competitive level perhaps!"
In 2012 you broke the world record for most hole in one's made in a 24 hour period - 1516! And raised money for the Oncology Department of the Westmead Children's Hospital. Do you have any plans to break other world records?
"That 24 hrs was quite nuts. Several months of preparation, around 70 hours spent on course, gym sessions, walking sessions, seeking donations. I played 175 rounds which is equivalent to walking a marathon! You don't have to be crazy to play that much Putt Putt - but it does seem to help (laughs)!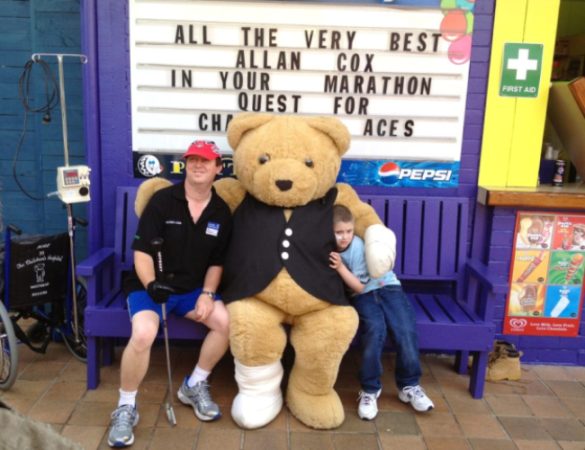 My next project on the drawing board is the Guinness World Record for the longest putt. This is currently standing at 120 Metres. I think this can be achieved. My early attempts are promising, so watch this space!"
What's the best prize you've come across in a putt putt tournament?
"The PPA in the USA have awarded a $50,000 first prize and the MSOP (Major Series of Putting) have awarded a first place cheque of $110,000. In Australia $3,500 has been awarded in recent times. Back in the 70s and 80s pro prize money in Australia was typically $3000 - $5,000."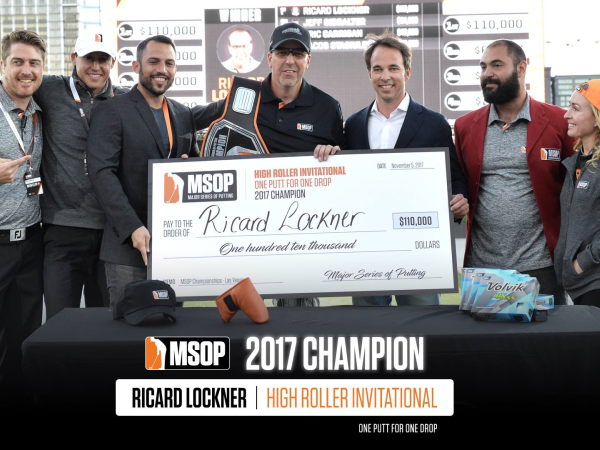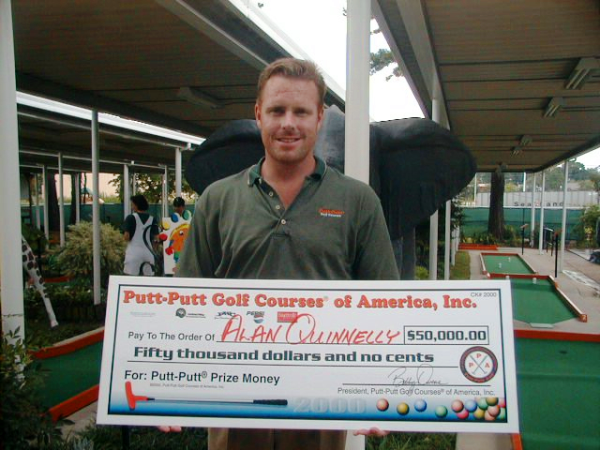 You've played putt putt all over the world, what has been the most exciting tournament you've been a part of?
"Early in my professional career I had the opportunity to play in the USA Professional Putters Association (PPA) National Championship. This was way back in 1997 in Orange Lake, Florida. The chance to compete against some of the greatest pro Putt Putt players is a memory I will cherish always. A competition low round of 25 was achieved. Although the tourney results were not that great that week. The experience gained and advice by the pros was invaluable. I think the only way to improve in competition is play is against better players. The likes of Greg Ward, Kevin Lacey, Greg Newport and Brad Lebo are certainly that. Randy Reeves won that year shooting 80 under par for the 8 rounds. So eight rounds of 10 holes in one per round basically!
Locally it would have to be national Pro - Am doubles in Mildura 2001. My amatuer partner and I were running 4 forth with a round to go, about 5 shots off the lead. In doubles BB that is quite a lot. We would have to go low last round to be any chance of victory.
We shot a last round 20, missing the ace only on hole 4 and hole 8. We aced the last 10 holes. My amatuer partner said around hole 12 he was getting quite nervous. I just reminded him of all the practise he had put in and now was the time to call on all that practise. He aced the next hole and we aced out from there. That was pretty exciting! Just sometimes all that practise pays off!"
What do you love most about putt putt?
"Putt Putt Golf, as distinct from some mini golf courses is designed for a hole in one on every hole. After all these years my best is 21. 15 aces out of the eighteen. There have been four perfect rounds (shooting 18) in Putt Putt Golf over the 60 plus years of competition. That mark for me is yet to be conquered - well, I can dream! Also the competition is always fun and the camaraderie and friendships on tour are something that keeps me coming back for more."
When you're not playing putt putt, what are you doing?
"Work, family, movies, normal stuff. A heap of time is spent editing videos. When you putt as bad as I do there is always plenty of editing to do…"
If people want to get involved and take up putt putt as a sport, how can they go about it?
"The Australian Mini Golf Federation is the best point of contact. Recently an Australian team played at the World Championships in Croatia. With a Trans-Tasman Mini Golf Cup team event taking place against our neighbors across the ditch. The New Zealand Mini Golf Federation run a professional league with a New Zealand Pro Open held on annual basis. Australians have competed in the USA PPA championships since the early seventies. A runner up finish is our best result."
Want to start a competitive putt putt team with your mates or are interested in taking part in a tournament at Putt Putt Mermaid Beach? Get in touch to find out more.