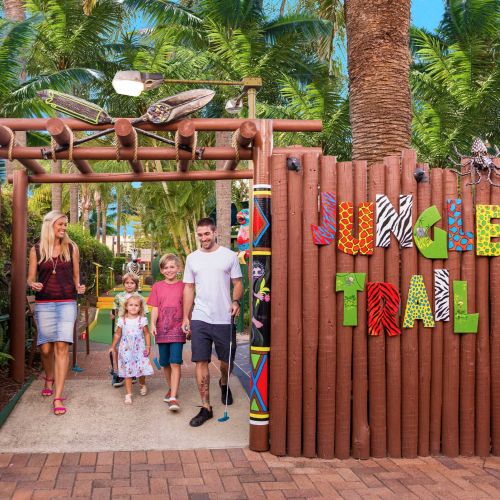 A Hole-in-One of Family Fun
Everyone loves to putt putt. It seems to be built into our human nature to enjoy the most easy-going game. Children for the very young right through to teenagers, simple embrace the fun on our crazy little greens. From turtle fountains and fairy castles to pirate coves, our three themed courses are a guaranteed hit during you next family holiday on the Gold Coast.
You can even up the fun by coming at night for a luminous adventure after the heat of the day has passed. Have fun in the video arcade after a round of putt putt and enjoy our tasty refreshments or bring a picnic and chill out at the Jungle Hideaway, with its complimentary barbecue facilities. With great restaurants within walking distance you've got everything you need to enjoy a great time bonding with your family.
At Putt Putt Mermaid Beach everyone will get into the game. That's why we were recently recommended in Expedia's guide to fun-filled 'Gold Coast Family Holidays'.
As Expedia suggests, considering a 'flexible multi-day pass means you can experience the Jungle Trail, Fun Run and Waterways over the duration of your holiday.'
There's so much to do at the Gold Coast, so plan your activities wisely and make sure to book your round or two at Putt Putt Mermaid Beach – you don't want your family to miss out on the fun!