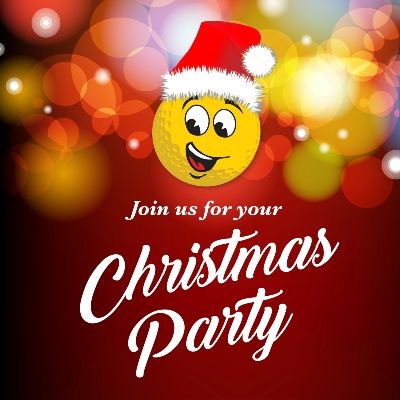 Can you believe it's time to plan your Christmas Party on the Gold Coast already?! The year is absolutely flying by. Suddenly, you're met with a tough decision. Where is the right location? What is a suitable activity? And how do you please everyone during your end of year festivities?
We're now fully licenced and currently taking bookings for Christmas Parties hosting groups of 10 to 100 people. Open daily from 9am until 10pm choose a daytime or twilight mini golf party. Pretty handy, right? Throw a Christmas Party with a difference at Putt Putt Mermaid Beach.
Group Packages at Putt Putt Mermaid Beach
Booking your group in for a Christmas Party with us is easy. Call 55753381 or email us to secure your date and we'll take it from there. We offer discounted group play packages for groups of ten or more people.
from $16.50 per person for adults
from $12.50 per person for children, students and concession card holders
Pay on the day, with no deposit required or buy online. Best of all, you can bring your own food and make use of our private Jungle Hideaway area. This tucked away area is fit with BBQ, picnic tables and a newly installed pergola! All decorated for Christmas...talk about a snazzy spot to have your do!
Here are six reasons why your Christmas Party at Putt Putt Mermaid Beach will be a hoot!

Team Building
Let's face it. Sometimes Christmas Parties can be awkward. Everyone's standing around, looking at each other and generally feeling uncomfortable. It's understandable, right? You're not in your natural habitat! Be that the office, a social group or on the sporting field.
Clear the awkward air and enjoy a different type of group celebration with us! Putt putt is heaps of fun and generally light-hearted (unless that one super competitive guy comes along!). Your group teams up, cheers each other on and leaves the party filled with joy!
Unlike sitting down at a dinner party for an entire evening, putt putt allows everyone to mingle. You're not glued to a chair or a certain location. And with everyone in high spirits, your group is bound to make new connections (and not just stick with those they know). Of course you can always go out for dinner after your Christmas Party on the Gold Coast too! Nothing says team building like negotiating about who gets the last chip.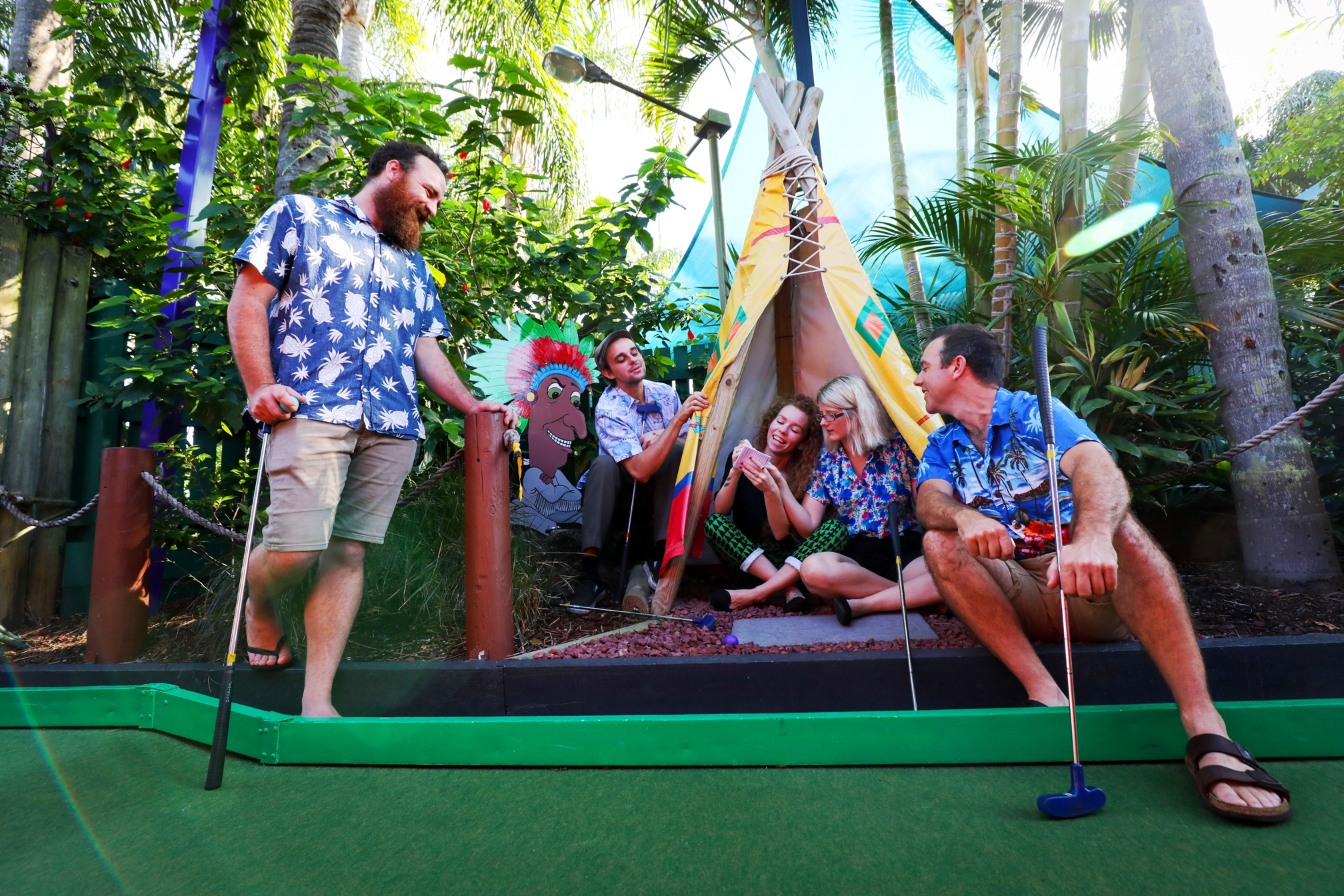 Suitable For All Ages
Most workplaces, social groups and sporting teams mix people of all ages. It can be difficult keeping everyone happy, entertained and genuinely interested in coming!
Whether your group is a mix of kids, teens, adults, or all of the above, putt putt is the perfect solution! We're all big kids at heart. And celebrating the end of the year together is a given. But when you see those big cheesy grins on everyone's faces? Yeah, that feels pretty good.
Choosing an age-flexible option is key when inviting families too. It only makes sense to choose an activity that caters to everyone. Give all of your guests the opportunity to have a fun day out with a Putt Putt Mermaid Beach Christmas Party!

So Many Food Options!
Our onsite Jungle Hideaway BBQ area means you can bring your own food and cook it while you're here. We're more than happy to keep your food in the fridge until you're ready to chow down. Want an insider tip? Chicken skewers, burgers and salads are easy share-foods that won't take forever to cook.
Or, you can have food delivered straight to us to eat between games! How easy is that? Sushi platters, pizzas or anything else you'd like delivered, you're more than welcome to do so.
We also offer refreshments, alcohol and light snacks from the 19th Hole Kiosk. If you're planning to go out to eat before or after your visit, this is the perfect way to refuel your group.
Putt Putt Mermaid Beach is surrounded by some award winning restaurants such as Little Truffle, Lupo, Bonita Bonita, Etsu and Glenelg Public House. If you have a younger group with you, Fu Fu's, Nobby's Arc and Miami Marketta are also favourites in our area.
With so much around us, you can make it a real outing. We're a block from the beach, Mermaid Surf Club and Nobby Surf Club cater for larger groups. Take your pick! Whether you're after a view, group specials or relaxed dining, these are top notch places to consider.
Party Rain, Hail or Shine
The worst part about planning a Christmas Party is being responsible for it! You're outside and it starts raining? Everyone looks to you. Blistering sun and not a cloud in the sky? You'll be expected to have the sunscreen on hand. That's a lot of pressure!
Wipe the sweat from your brow - we've got you covered! In fact, we've got you so well covered that it won't matter what the weather's doing.
Our Jungle Hideaway has a new pergola, shading your group from the sun and rain. The Fun Run course with motorised obstacles is also fully covered.
We also offer an onsite games arcade with pool table, air hockey, car racing and dream shooter - to name a few. This is perfect for those big kids while others want to mingle a little longer.
Breaks The Ice
If your group don't often hang out outside of your usual surroundings, there might be a reason. Maybe people don't know what to do. Where to go. Who to invite. But by bringing everyone together, there'll be no room for such excuses! You'll have everything you need, all in the same place and ready to roll.
Being playful generally loosens everyone up from the get-go. And even if you have the cliquiest of groups, everyone will be yahooing together, during a light-hearted game.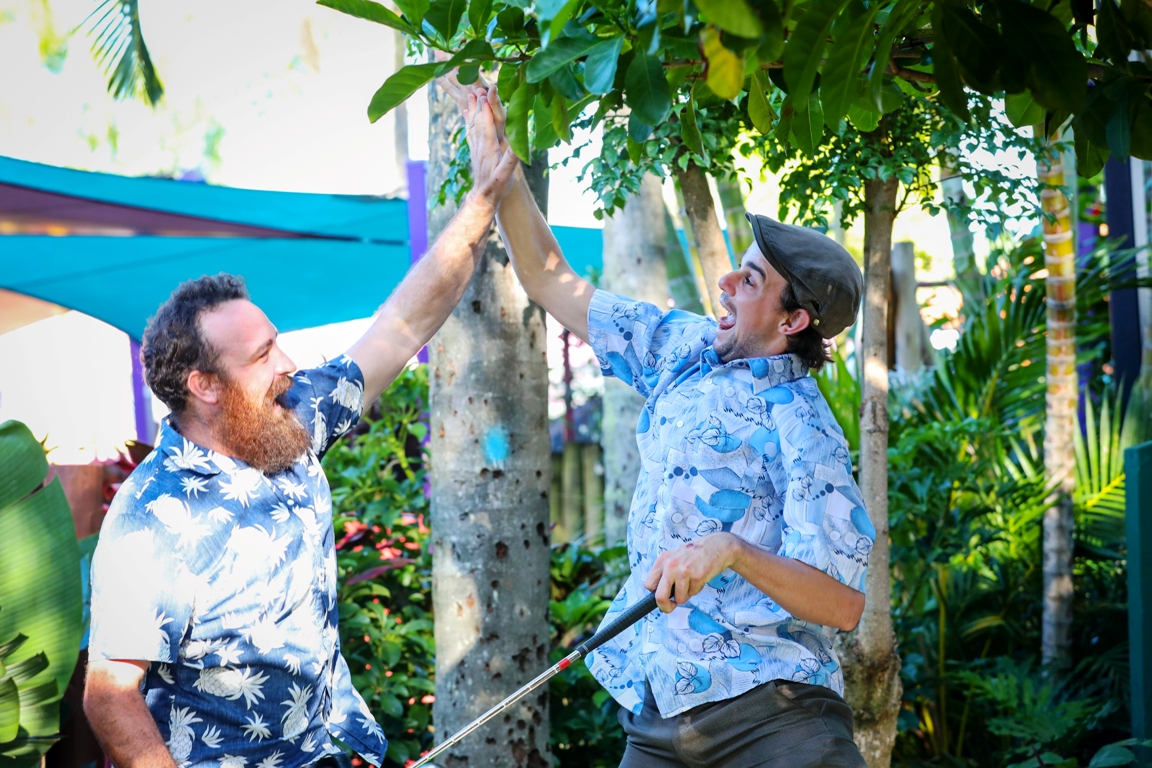 Centrally Located
We're conveniently located right on the Gold Coast Highway. We're also on the main bus line if you're catching public transport to or from your party. This makes travelling between events super easy for everyone. Plus, you can't miss our giant yellow Golf Ball on the main strip!
Book your Christmas Party on the Gold Coast with us by calling 55753381 or email us today.